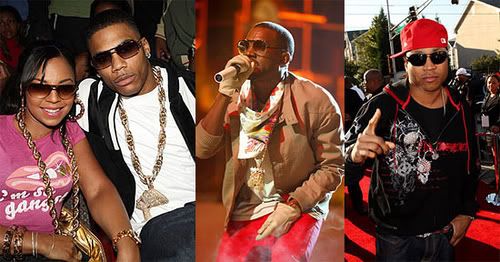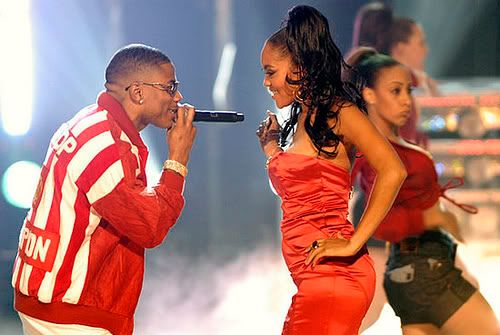 Enjoy the above BET awards pictures from The Life Files website.
Of course there were parties among parties among orgies (i'm guessing...but ewwww!) among club concerts, to private events to dinners to gun shots to stabbings to arrests...yes all during the 2007 BET Hip Hop weekend.
There were the classy events like the private party at an Atlanta mansion put on by Crystal Betts with Fifth Street Agency and hosted by Jason Geter (Grand Hustle of course) and Steve Ewing. Very posh with white suede sofas, colored lights, fancy hors d'oeuvres, an open bar, and flat screen monitors. Celeb guests like TI and Chamillionaire flanked the party bringing the Hip to the Hop amongst a mostly executive crowd including BET's Debra Lee, Alicia Renee, etc. This to me was the official BET party that you had to be at for the entire weekend. The Friday night was lights, camera and cavier as guests strolled in wearing high fashion dresses and suits and were whisked away by shuttle after checking into an exclusive guest list on the way to the sprawling nestled in lovely woods of Atlanta mansion. Idol Sweetheart Diana Degarmo was in good spirits and made an appearance after coming from another party hosted by Jane Fonda, Hot 107.9's Beyonce smiled and showed her face (I think she was flirting with my boy Marcus who sat with me during the list check in...hmmm), and of course there were many others.
So on The night before Kinky B, Jeezy's partner threw a party at the CW stage (The Loft) on 17th street launching, Hush Entertainment. The star artist for Hush is London a male singer. Charm School's Buckey slid through along with Ne-Yo, looking very normal in a baseball cap and texting on his phone and an always hype Jezzy.
Friday afternoon Absolute Vodka had a Style 100 preview which was all about...fashion...HELLO! Slim Thug came through (good photo opp) cuz he's SOO tall and SOO cute, Buckey again, Micheal Knight (fashion designer), Gorilla Zoe, Alphamega, Big Kuntry, Mac Boney (Grand Hustle forever boyeeeeee!), Carey Hilson (lil skinny singer, song writer) and etc. Ok I'm tired of writing names down. But there were lots of folks and even more fashion! Of course the celebs got gift bags with clothes and toys. The designs that were displayed and on hand were: Triple 5 Soul, Avia, Laced Up Boutique, Bond No. 9 fragrance, Godiva Chocolate, PZI Denim, Rocawear's 8732, Live Mechanics, OveRaided, Old Baby Doll, Grind, Riejunio, Omavi Clothing, Dap Rugget, Claire Sonic facial massagers, Nicole Miller lip gloss/ Andy Y. Celebrity makeup artist, IIWII Fresh, Fab'lous Lashes, Fonzweworth Bentley's new book "Advance Your Swagger", Love Happi home set, Nuevo Champagne, and more. Yes lots. I got to this one late so I missed some of the celebs gracing us with their grace and poise (yeah right) but I can say it was very well put together at Club Opera (which had the shooting during Trey Songs ladies night out performance the night before) and the had enough good food for the masses. But uh...they were a little bitty stingy on the dang give away bags...booooo! Boooooo!

Compound Entertainment (Ne-Yo's Ent. company) held a HUGE party on Saturday night at the Carrington House Studios on Marietta St. which is Ne-Yo's recently opened studio. Trina was there, Big Tig, Ne-Yo (duh), Ciara, Debra Lee (so classy and beautiful always) and other BET power heads, and etc. I was sad about this one because of my late arrival It was impossible to get in (unless you were BET or a celeb) but still saw many of the faces as well as a few fights going on outside of the gate. Trust me it was ugly. The Fire Marshall shut the party down because of the size, cars got towed, etc. Drama. But the show must go on...and it did for a long while before they shut it down.

Sunday was the velvet room, a DJ Drama Video Shoot, and before all of that an honor to Ludacris, Hill Harper and Frank Ski for their philanthropy and work in the community put on by the Martell Noblige tour held at Mercedes Buckhead. I was way too tired to go to this one however I heard it was swank.

All of the events mentioned besides the video shoot, Jane Fonda's party and the Velvet Room parties were partly run and planned by The Garner Circle PR & Marketing Events firm and S.T.E.P.S here in Atlanta. They are high class and did an excellent job with these events. It's not their fault that some of these events were a little nutty...it's just what happens when you mix entertainers, liquor and music...welcome to the business. My hat goes off to Nicole Garner, she did a great job and held herself together like the femme diva she is the whole time. She's professional while being very kind.

Well the main event awards show that highlighted all the parties we will get to see on BET tonight. Will you be watching?!!